NEW YORK, NOVEMBER 10, 2022 -- Factor, the leader in solutions for complex legal work at scale, was recognized by the Financial Times (FT) as the Leading Integrated Solution Provider among a crowded field of New Law, Big 4 and legal tech companies.
On the heels of Factor's introduction of Integrated Law™ as a new category in the legal services market, this recognition from the FT and their inclusion of the Integrated category reflects growing market recognition of the need to bring together key attributes of New Law, Traditional Law and In-house Law to tackle the challenges facing General Counsels today.
This recognition is the culmination of FT's Accelerating Business special report, which has spent several months exploring how the legal industry is changing to address new and old challenges alike. In the final piece of the series – "Ambitious legal innovators help companies work faster and smarter" – the FT points to a leading example within five key categories: leading smart legal function, leading legal technology company, leading integrated solution provider, leading contracting company and leading change maker.
Winners were announced at the Accelerating Business Forum on Tuesday, November 8 in San Francisco. Joining Factor on the shortlist for Leading Integrated Solution provider were Deloitte, EY, KPMG and PwC, among others
"The market has responded enthusiastically to Integrated Law as the solution for complex legal work at scale that represents such a significant body of work for our clients. Our integrated approach allows clients to entrust us with this higher-value work, enabling them to focus on the vitally important, recurring advisory work only in-house teams can provide," said Varun Mehta, Chief Executive Officer, Factor. "Clients need a partner to be truly enmeshed in their world, with a deep understanding of their markets, systems, strategies, and stakeholders."
As part of the Accelerating Business report, FT highlighted the long-standing relationship between Factor and BT, the UK's leading telecommunications and network provider. This engagement, which has evolved significantly since it began in 2013, proves that integrated providers whose business model is specifically geared for higher complexity work can support agreements like sponsorship, IP licensing and outsourcing that are typically beyond the reach of commodity players. Simultaneously, Factor's proven model drives process efficiencies and improvements that improve business and legal outcomes.
To continue the discussion around this new category, Factor recently hosted a virtual Integrated Law™ Briefing – watch the briefing.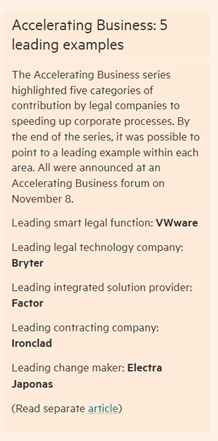 About Factor
Factor is the market leader in Integrated Law. Factor works alongside corporate legal departments and law firms to solve the ever-increasing demands and complexity of transactional legal work like contracting. With 10+ years of focused experience, Factor integrates the expertise of Traditional Law, and the efficiency of New Law, with the business know-how and integration of In-house legal to deliver complex legal work at scale. Factor helps re-focus in-house legal on advisory, solving business problems, and balancing commercial opportunities with legal risks.
Factor is not a law firm and does not provide legal advice. For more information, go to https://www.factor.law or LinkedIn.